The ASEAN-China Young Leaders' Summit, on the theme of "Commemorating 30 Years of ASEAN-China Relations: Strengthening Partnerships for the Next Decade and Beyond," kicked off on September 23 in Beijing. The summit was co-sponsored by Peking University and ASEAN Foundation. The opening ceremony, accessible online and offline, had the following participants: Tran Duc BINH, Deputy Secretary General of ASEAN for Community and Corporate Affairs and Ambassador and Permanent Representative of Vietnam to ASEAN; Deng Xijun, Ambassador Extraordinary and Plenipotentiary of China to ASEAN; YANG Mee Eng, Executive Director of ASEAN Foundation; ONG Keng Yong, Executive Deputy Chairman of the S. Rajaratnam School of International Studies at Nanyang Technological University in Singapore and Ambassador-at-Large at the Singapore Ministry of Foreign Affairs; Yang Xiuping, Assistant Director of the China Public Relations Association and former Secretary-General of the ASEAN-China Center; Wang Wei, Deputy Mayor and member of the Standing Committee of the CPC Yiwu Municipal Committee; Sun Qingwei, Assistant to the President of PKU, Secretary General and Director of PKU's Party Office & President's Office; Qian Chengdan, Director of PKU's Institute of Area Studies (PKUIAS); Zhai Kun, Deputy Director of PKUIAS; Li Yun, Deputy Director of PKU's Office of International Relations and chief of PKUIAS; and more than 200 students from China and ASEAN countries.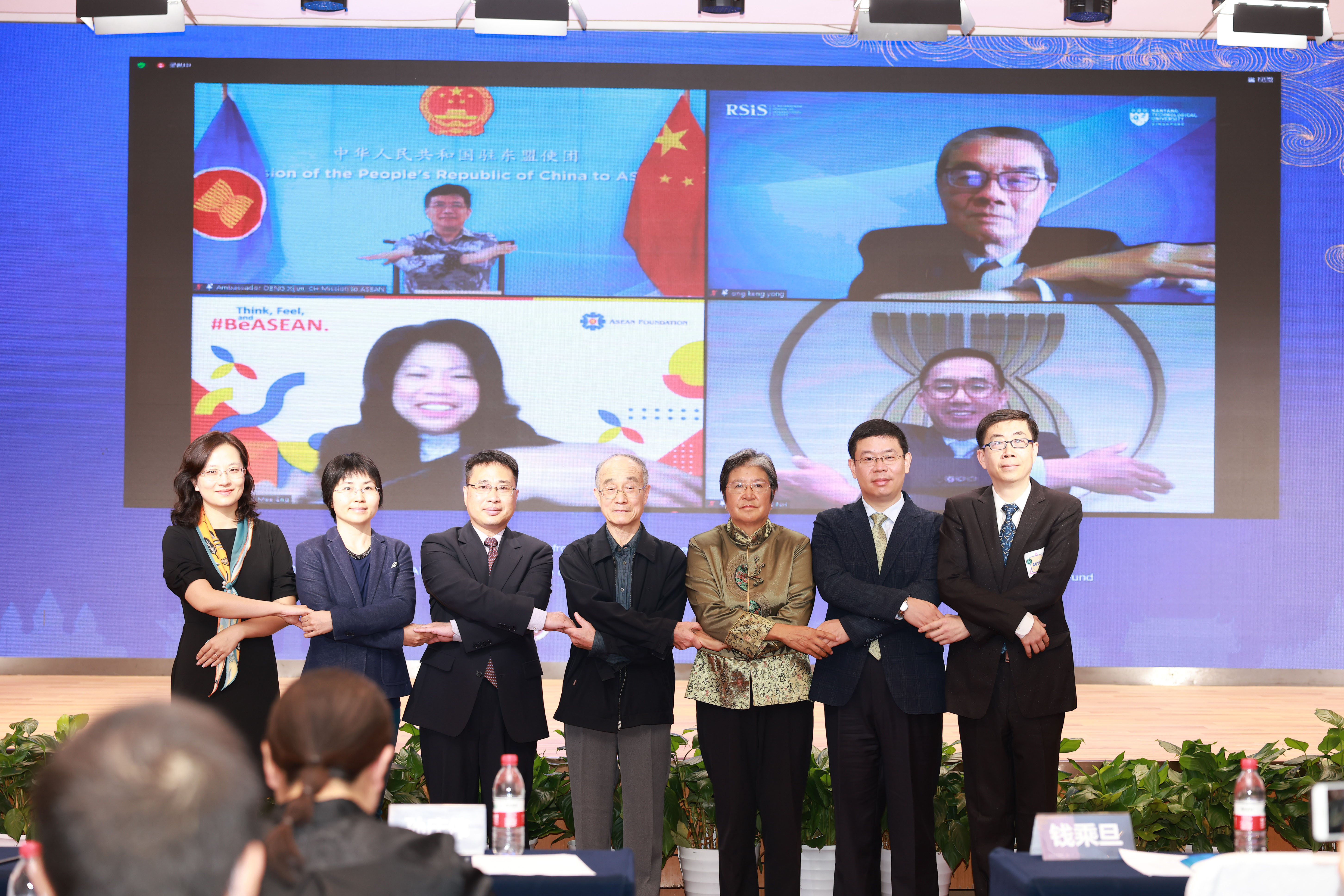 Sun Qingwei pointed out in his speech that Peking University, as an important institution for Southeast Asian studies in China, had been committed to the research of China-ASEAN relations and practice. After years of development, Southeast Asian Studies had become one of Peking University's flagship studies. Peking University had also promoted educational exchanges between China and ASEAN through a variety of cooperative projects to enhance communication and understanding between young people. On the 30th anniversary of the establishment of the China-ASEAN dialogue relationship, Sun Qingwei put forward three suggestions to the youth. One was to research for practical use and practice for stronger studies. He expressed his hope that Chinese youth would continue to strengthen their research on ASEAN countries so that ASEAN youth could better understand China; at the same time, students should apply what they've learned to strengthen Southeast Asian and China studies. Second, as the mainstay of the development of China-ASEAN relations, young students should strengthen their thinking skills in learning and practice, and contribute to the development of China-ASEAN relations. Third, in the complex international environment, young people should pay attention to exchanges and dialogues, be tolerant, seek consensus among differences, and strive to be the envoys of exchanges between China and ASEAN.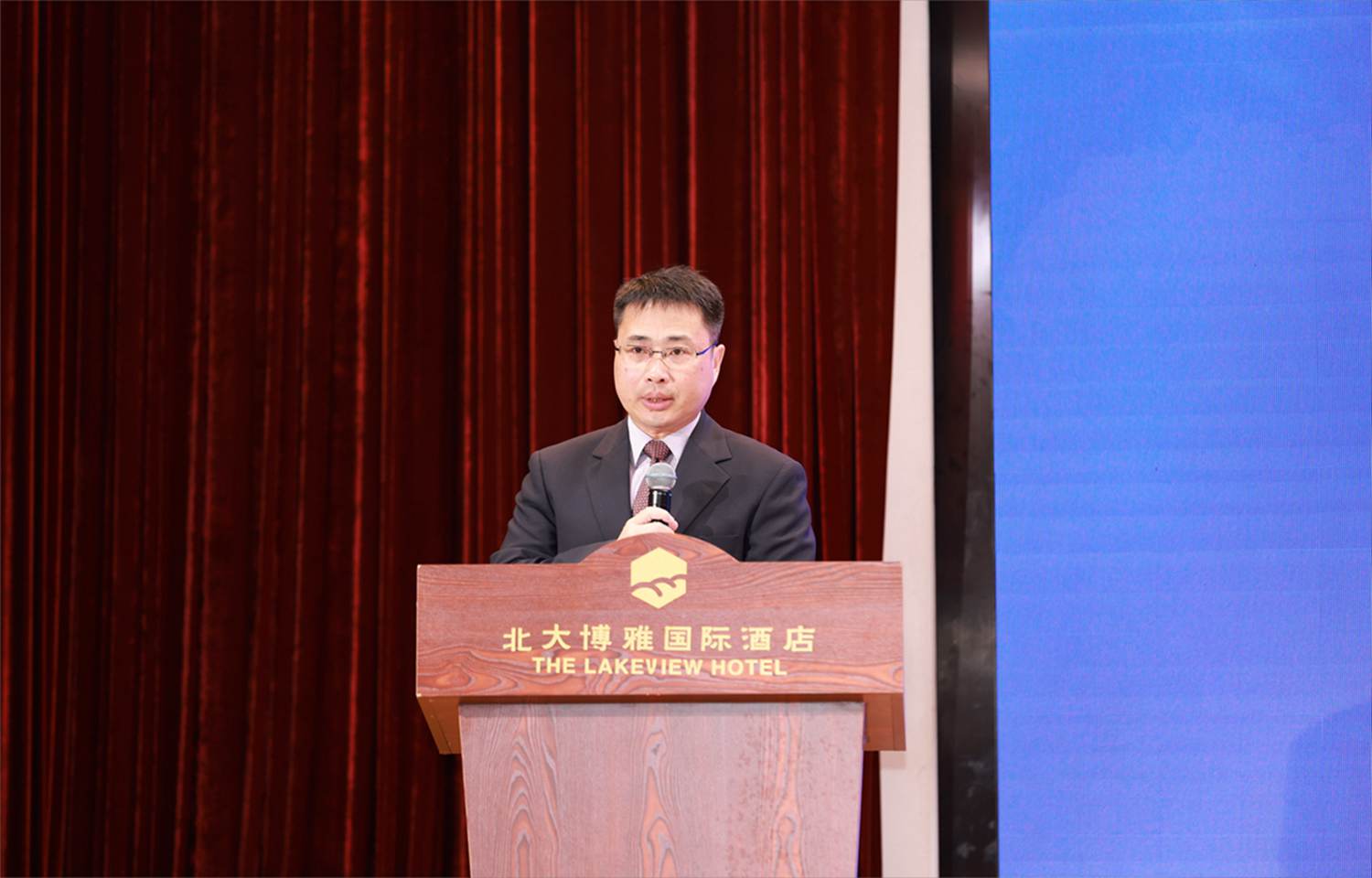 Tran Duc BINH delivered a speech through the online platform. He emphasized that this summit was of great significance to strengthening the understanding and mutual trust between China and ASEAN. He reviewed the cooperation between China and ASEAN in various fields, and pointed out that social economy, climate change and disaster response, clean energy, the digital economy and interconnection should all become important areas for mutual exchanges and mutual learning between the two sides. He expressed his hope that young people could communicate around these issues and work hard together to create regional prosperity and peace.
Looking back on the development of China-ASEAN relations over the past three decades, Deng Xijun opined that the 30 years had witnessed the shared destiny of China and ASEAN and their mutual benefit and win-win cooperation, and demonstrated the exemplary significance of China-ASEAN relations. With both opportunities and challenges in the future, China and ASEAN should steer toward the correct direction, expand cooperation, lay a solid foundation, and strive to transform the beautiful vision of China-ASEAN relations into reality. Deng Xijun also expressed his expectation for young people and hope that more young people will devote themselves to the construction of China-ASEAN relations and play a greater role.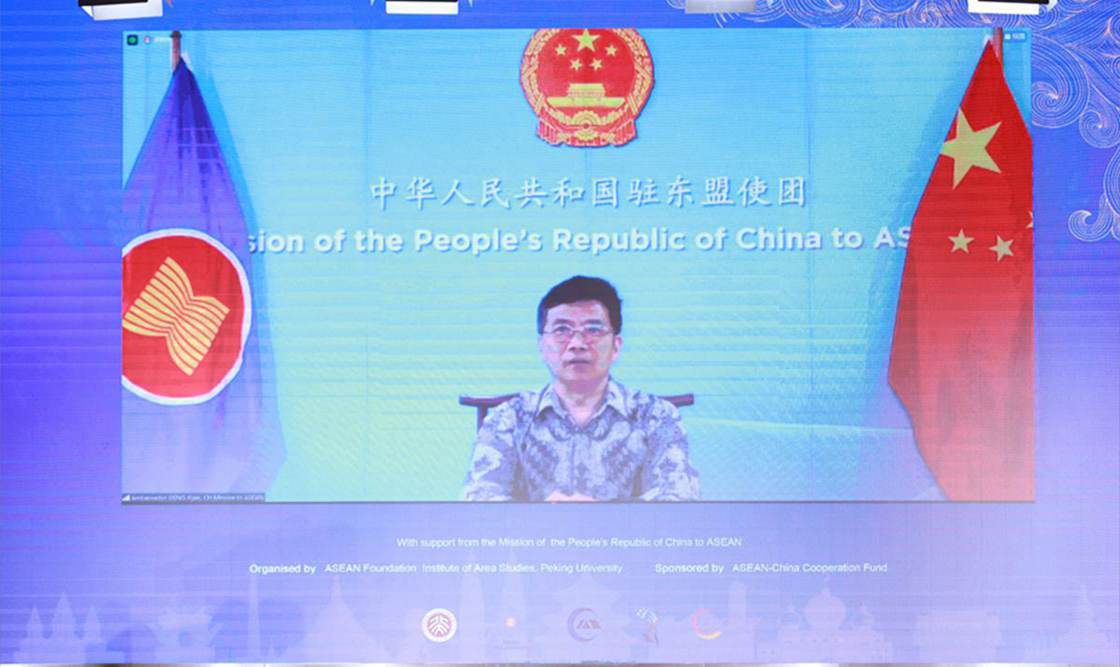 YANG Mee Eng emphasized the great significance of the summit. She stated that, in reality, the China-ASEAN cooperation relationship had been continuously intensified. Through simulation, this summit could promote mutual understanding between the youth representatives of China and ASEAN and allow them to work together to explore the future of China and ASEAN. The youth representatives could not only enhance their own leadership and creativity, but also promote exchanges and mutual learning to make them feel closer to one another.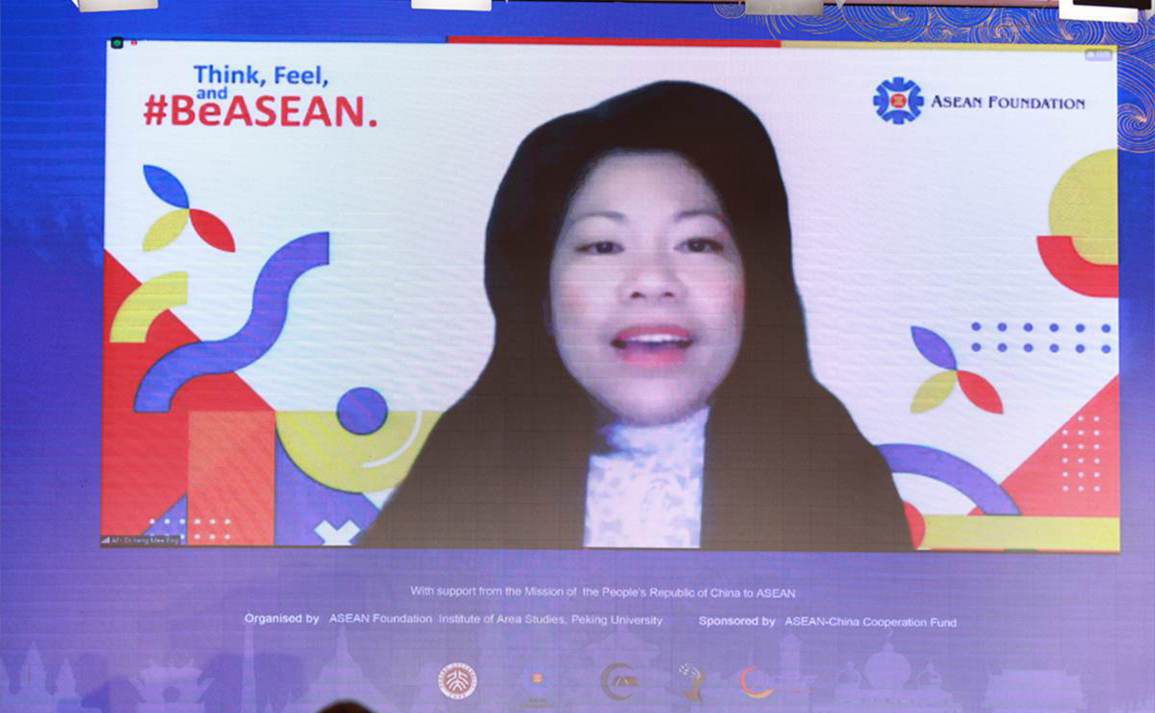 Qian Chengdan provided a new perspective on the development of China-ASEAN relations from the angle of globalization and "blockization." He pointed out that during the epidemic, "blockization" had become a development trend coexisting with globalization, and among the many blocks, East Asia, dominated by China and Southeast Asia, had become more prominent and important. He expressed his belief that the benign interaction between China and ASEAN depended to a large extent on the main body of development of each country — the youth. In this regard, Qian Chengdan put forward several expectations of young people. They should strengthen the language learning of regions and countries, establish a systematic global and regional perspective, and use history as a mirror and maintain their integrity and spirit of innovation.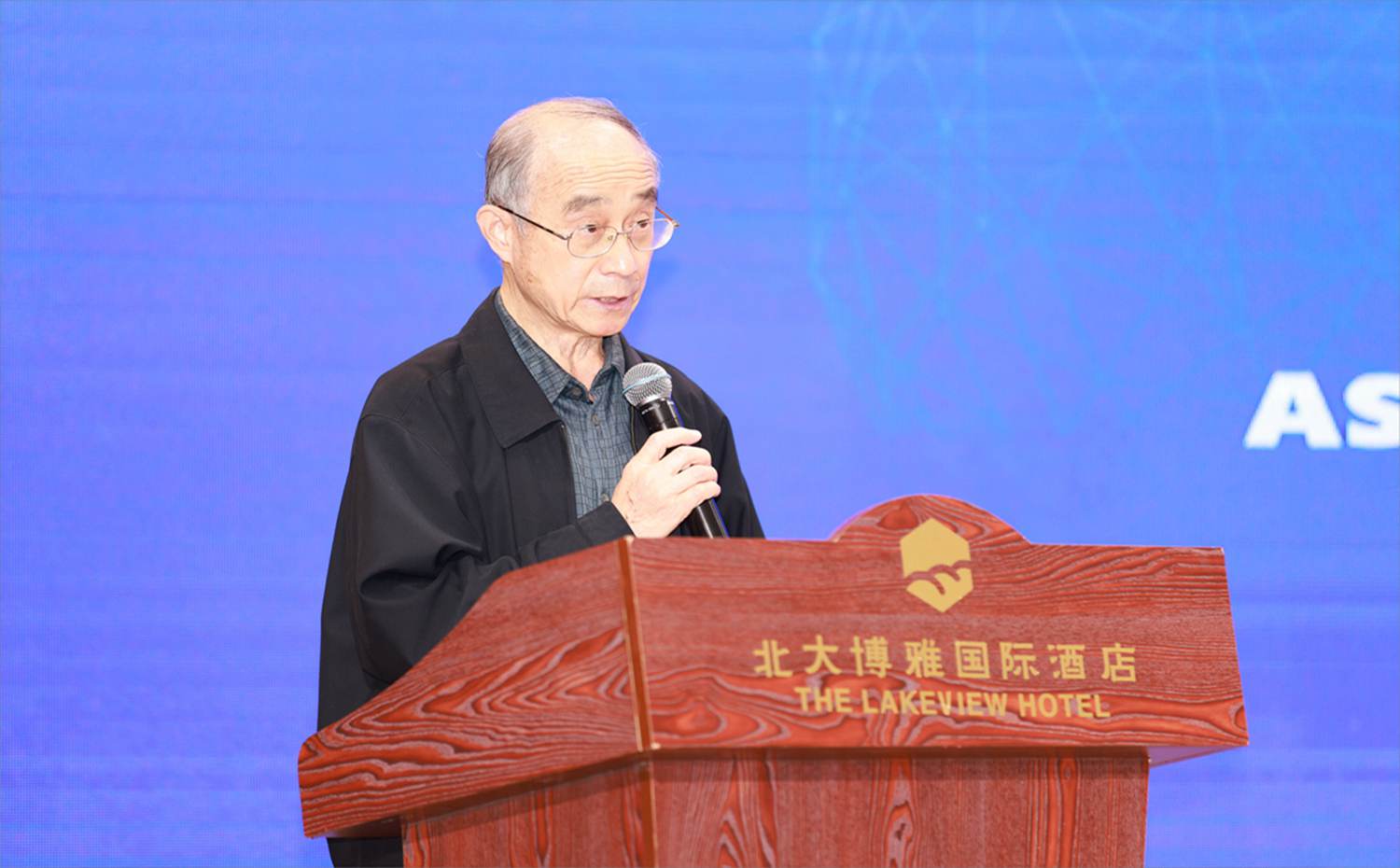 At the opening ceremony, representatives of overseas students from ASEAN countries and Chinese students also participated in a highlight ceremony. Eleven student representatives posted the flags of each country on a map and lit up the map together, symbolizing the cooperation and prosperity of the China-ASEAN region. After the ceremony, Yang Xiuping, ONG Keng Yong, Wang Wei and Prof. Wei Ling from the University of International Business and Economics were invited to discuss on the theme of "Opportunities and Challenges for the Future Development of China-ASEAN Relations" at the round-table forum.
The four-day summit invited more than 140 young representatives from universities in China and ASEAN to engage in various levels of meeting simulations to discuss important issues, such as environment, transnational crime, food safety, biodiversity protection, and the social entrepreneurship.